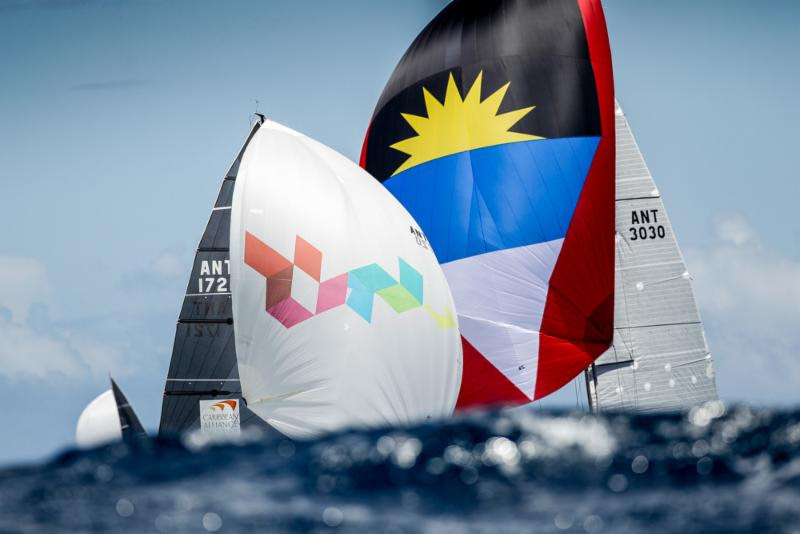 Fresh trade winds piping up to 20 knots in the gusts blessed Antigua and Barbuda Race Day, for the last race in the stunning fabled sailing grounds of Antigua. One race was held for all classes to decide the teams that would be taking a bow on the main stage at the Final Awards Party. This year new marks at Jolly, Nanton, Lee and Friars have allowed the Race Committee to set both longer coastal races and shorter technical windward leeward races. With Race 8 concluding on the water action for the 52nd edition of Antigua Sailing Week, the 12 class winners have been decided.
Full Results HERE: https://www.yachtscoring.com/event_results_cumulative.cfm?eID=4734
"We are delighted with the fantastic response and feedback we have received regarding the new courses," commented Lorna Saunders, Racing Manager, Antigua Sailing Week. "It has been challenging not only for the competitors, but for the Race Officers as well. The Multihulls, Double-Handed and CSA 1 classes have thoroughly enjoyed the mix of coastal and round the cans courses, and all the competitors have relished the new windward, leeward courses being thrown into the mix – A great success out on the water."
In CSA 1, Sir Peter Harrison's British superyacht Sojana won the big boat class for the regatta, but the last race belonged to Volvo 65 Ambersail2, skippered by Simonas Steponavicius. The Lithuanian team finally defeated Sojana in Race 8 and also scored a memorable victory over SHK Scallywag, skippered by David Witt which was returning to action after ripping their mainsail during the Peters & May Round Antigua Race. Sojana is the CSA 1 champion for the second year running, Ambersail2 ended the regatta second in class, with Jean Pierre Dick's French JP54 The Kid in third.
In CSA 2, Ker 46 Lady Mariposa, skippered by Dane Jesper Bank is the class champion. The class runner-up, after winning the last race is British Lombard 46 Pata Negra, skippered by Adrian Fisk. Jeremy Thorp's British GP42 Phan scored second in Race 8 to claim the final podium position, just a point behind Pata Negra.
In CSA 3, Adrian Lee's Irish Swan 60 Lee Overlay Partners II have won the class. Mark Jagger's British CNB 60 Theia of London won Race 8 to place second for CSA 3 and Ondeck Antigua's Farr 65 Spirit of Juno is third.
In CSA 4, Ross Applebey's British Oyster 48 Scarlet Oyster won the last race to win a highly competitive class. Pamala Baldwin's Antiguan J/122 Liquid, skippered by Jules White is second in class. A second place in Race 8 secured the final podium position in class for Performance Yacht Racing's British First 47.7 EH01.
In CSA 5, Jonty and Vicki Layfield's Antiguan J/11s Sleeper scored their sixth win in Race 8 to take class honours. Sir Richard Matthews' British ST37 Holding Pattern is class runner-up. British First 40, Optimus Prime skippered by Martyn Oldroyd is third in class. Despite a battling second place in Race 8, Ben Jelic's St.Maarten J/120 J-aguar is just off the class podium.
In CSA 6, Jules Mitchell's young Antiguan team racing NSA Spirit scored their sixth bullet of the regatta to win the class. Raymond Magras and Patrick Bernier's St.Barths' Dufour 34 Speedy Nemo was second today, and for the regatta. Raphael Magras' x-34 Maëlia CEPAC Antilles, also from St.Barths is third in class.
In the Multihull Class, Robert Szustkowski's HH66 R-SIX is the class champion having won all five races. Huge congratulations to the Polish team who have been racing at Antigua Sailing Week for the last three years.
In the Double-Handed Class it went to the wire. Philip Asche's American Swan 44 Freebird won the last race, taking line honours in the 24-miler in an elapsed time of 3 hours, 30 minutes and 49 seconds. The new coastal course takes in the beautiful vistas of Antigua's rainforest and many of the stunning beaches on the south and west coast of Antigua. Freebird won the inaugural Double-Handed Class at Antigua Sailing Week. David Kinsey's American Oyster 49 Buckaroo is second and Henry Rourke racing his Open 40 Raucous is third.
There was a thrilling climax to racing in Bareboat 1. Alexander Pfeiffer KH+P Bavastro won the last race by just 17 seconds from Gerd Eiermann's KH+P Odin II, but it was not enough. KH+P Odin II was the class winner by a single point after eight friendly, yet hard fought races, with last year's champion KH+P Bavastro second for 2019. Karl Puetz's KH+P Lascaris is third.
In Bareboat 2, Nicholas Jordan's Ananda won the final race to move up to second place for the regatta. Peter Zauner's Tintoret was second in Race 8 by just 27 seconds, putting Jakob Oetiker's Swiss team racing KH+P Botero into third.
In Bareboat 3, Hans Steidle's KH+P Barbuda scored their sixth win out of eight races to gain victory in the class by four points from last year's Bareboat Overall Champion, Cannon & Harvey's KHS&S Contractors. Andreas Hofmann's Hawking took third in Race 8 to make the class podium for the regatta from Roberto Maxera's Miaw.
In the Club Class, Ian Galbraith's Scottish team racing Oyster 53 Jigsaw, including brother Eric and nephew Steven, will be celebrating tonight. Jigsaw won the last race to win the nine-strong Club Class by a single point. Last year's winner Jon Constantine's Feeling 39 Imagine of Falmouth is second, James Gardner and Jerry Bethell's Jeanneau 54 INDY – Loosha Sails was leading the class going into the last race, but finished third.
Tonight, Friday 3
rd May, the Final Awards Presentation takes place in the UNESCO World Heritage site of Nelson's Dockyard. Thousands of honoured guests, Antiguans, visitors and sailors, will pay their respects to the winners of the 52nd edition of Antigua Sailing Week. DJ Purist and live music from 1761 is sure to get the party going!
Special prizes will be announced in the next press release, including the overall winner of the Lord Nelson Trophy.
---