Antigua Sailing Week is delighted to announce Yida International Investment Group (representing the Antigua Special Economic Zone) as a Development Sponsor and Sponsor of the Final Race Day of Antigua Sailing Week.
The Chinese international investment conglomerate owns and operates projects across four continents, including Asia, Europe, Latin America and South America. In Antigua, the Group owns Guiana Island, Crump Island and surrounding lands, a total of more than 1,600 acres of pristine island and peninsula lands. During Antigua Sailing Week, the Group will break ground on the Antigua Special Economic Zone, which includes the largest free trade zone in the country, off-shore financial centre, 5-star luxury resort, internationally branded villa communities, a casino and gaming complex, multi-purpose conference center, 27 hole golf course, marina and landing facilities, commercial, retail, sports and other auxillary facilities.
Of its support of Antigua Sailing Week, an official Yida representative commented: 'Yida International proudly supports and commits to Antigua and is looking forward to being an integral part of Antigua Sailing Week. We intend to shine a brighter global spotlight on both the event and Antigua by inviting Asia-based entrepreneurs and media agents to be a part of it with us.'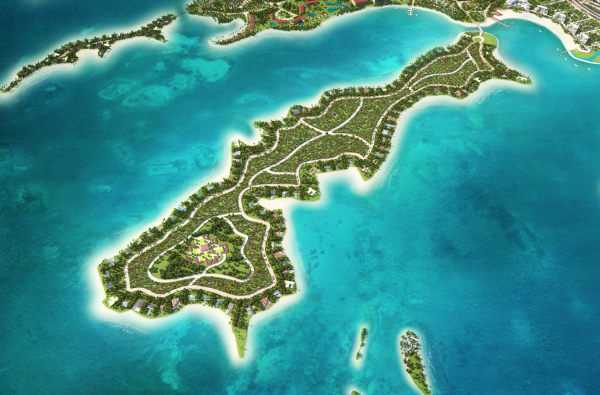 Architectural rendering of the luxury development at Guiana Island
Antigua and Barbuda's Minister of Tourism, the Honourable Asot Michael, adds: 'The support that the Government has provided directly to Antigua Sailing Week and assisted in securing through third parties has been significant this year. This will go a long way to ensuring the sustainability and success of our signature yachting event.'
During the event, the Group will bring back the prestigious Captain's Cocktail party and gala dinner at a private location for owners, skippers and their guests. Along with the other VIPs, they will be invited to a very special evening following the Group's official ground breaking ceremony earlier the same day. The final race day of Antigua Sailing Week on Friday, 1st May, known as the Yida International Antigua Special Economic Zone Race Day is followed by the post race daily race prize giving. That evening the Yida International Antigua Sailing Week Final Awards Ceremony and After Party, will bring the whole week to a successful finale.
For more information about Yida International Investment Group please visit www.yidainvest.com.
Click here for the full event programme, visit Facebook (#AntiguaSailingWeek), or download the new APP on iTunes or Google Play by searching for Antigua Sailing Week by ASW 2015.
---