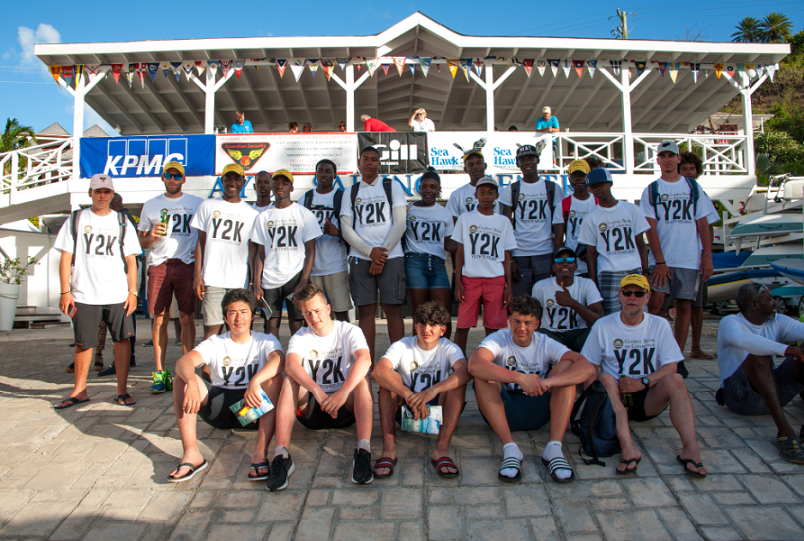 Above – 2018 Y2K participants. Credit:Ted Martin/ASW
"Sailing is my life, as I love being on the water. And my advice to anyone who wants to be a sailor is to follow your dreams." The words heard off the water from one of the 25 strong group of youth sailors who were part of the Youth to Keelboat Programme (Y2K) launched for Antigua Sailing Week 2018.
The programme was created by a team comprising of Antigua Sailing Association, Antigua Sailing Week and World Sailing Development Co-ordinator Tim Cross to provide a structured pathway for youth dinghy sailors to get keelboat experience on board the fleet . More than 20 boats offered to take youths on board as part of the registration process and in total 13 youths were selected into the programme and placed on board boats varying from 32 ft Dehler Pims to 115ft Farr Sojana.
In addition, thanks to the previous generosity of donors to the National Sailing Academy programme, two Cork 1720's were part of the CSA 7 fleet with youth teams on board, one from Antigua and one from the UK. NSA Spirit helmed by Jules Mitchell included 6 youth crew  competing for the second year. In 2017 first place eluded them, but this year their determination paid off and they won the class. Of the win Jules said," I would like to thank all of the people who have helped us to get to where we are, especially the National Sailing Academy. It was also great to meet the guys from the Greig City Academy; comparing life in different parts of the world. We hope to use this win as a springboard to the next level."
The programme allowed most of the youths to race each day throughout the week, but Tuesday 1st May was designated Y2K Race Day sponsored by Global Bank of Commerce, to celebrate the programme and hi-light the amount of youths on board. The sponsorship also supported getting the Greig City Academy team, from London, UK to Antigua to compete in Antigua Sailing Week.
The Greig City Academy shot to fame in 2017 as the first Comprehensive State School team to compete and finish the Rolex Fastnet Race, and their achievements have not been a one-hit wonder. Greig City Academy's Project Scaramouche have excelled in a number of sailing events and one of their number, 17-year old Montel Fagan-Jordan was awarded the 2017 Young Sailor of the Year trophy by the Yachting Journalists' Association (YJA), which has been previously won by Olympic Gold medallists Ben Ainslie and Shirley Robertson.
Of their experience in Antigua Sailing Week, crew members were enthusiastic. "We are not used to this type of boat but today we hiked harder and trimmed the sails a lot better and got the boat to surf. To come third and get on the stage in front of all these sailors from all over the world was just amazing," commented Jamal. Azat on the bow commented: "I got really wet today but the water is warm and so is the sun, so it didn't bother me one bit. To get up on the stage was nerve-racking, but this is a big accomplishment. We have only just started sailing and we just love it. After racing we all get back out in the dinghies at the National Sailing Academy; we just can't get enough."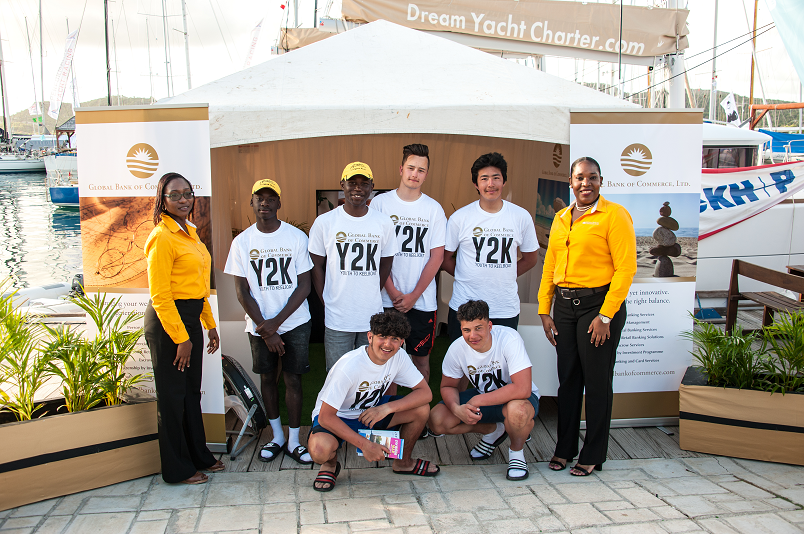 Greig City Academy crew of Valiant with representatives from sponsor, Global Bank of Commerce. Credit:Ted Martin/ASW
Race Manager, Lorna Saunders commented that it is planned that the legacy of this program will go beyond Antigua Sailing Week. "The overall success of the program and the two (2) youth teams on NSA Spirit and NSA Valiant is wonderful and already attracting other potential youth teams from around the world. We are looking forward to having even more Antiguan youths participating on race boats next year. Now it is important to obtain feedback from the skippers of the host yachts, such as commitment and progress levels, behaviour and attitude. This will then in turn be conveyed to the youths. All critical elements to learn from in order to progress"
Of the programme in general Alison Sly-Adams, Commercial Director of Antigua Sailing Week and Vice President of the Caribbean Sailing Association says, "At the outset we planned to review and put forward a proposal to the CSA Board and Members to roll this out throughout the Caribbean. We are working on that now with a view to presenting it at the CSA Annual Conference which will take place in Antigua from 12-14 October 2018. For all events across the Caribbean supporting our youth programmes and encouraging new people to get involved in the sport is a major priority and we believe this programme can become a significant piece in removing the perceived barriers of entry to the sport and hence support our individual economies by encouraging homegrown talent to reach their full potential."
---