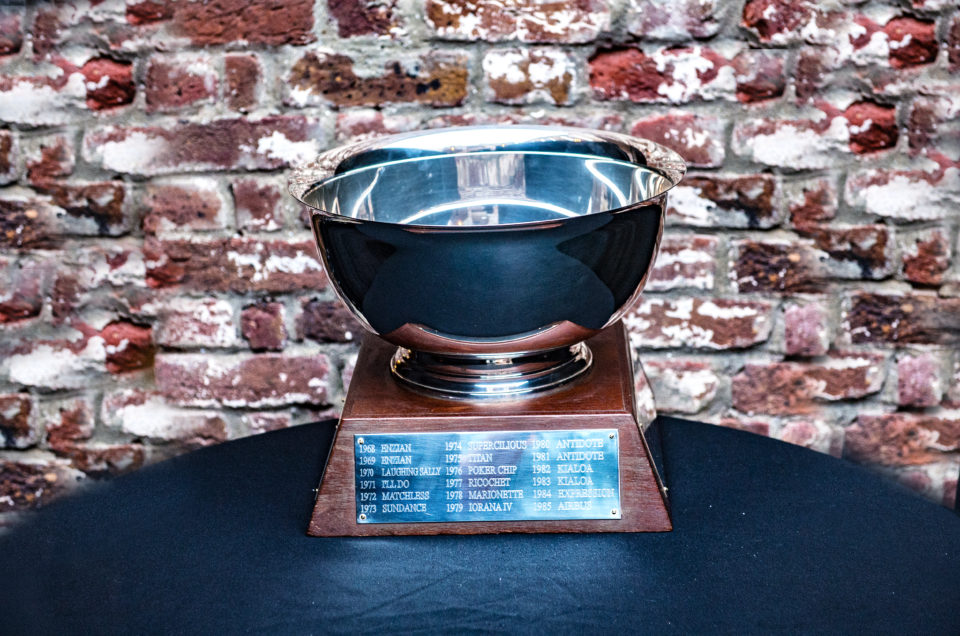 The Lord Nelson's Trophy will be awarded at the final prize giving to the overall winner of Antigua Sailing Week. Eligibility
The class winners from boats racing off Committee Boat A, CSA Spinnaker Classes only, Multihull and Double-Handed Classes.(Or as nominated each year by the Regatta Organising Committee).
Calculation
The calculation applies a class weighting factor to each class winners final score.
The class weighting factor recognizes the added difficulty of achieving a particular position in a larger fleet.
The Class Weighting Factor for each boat will be: 10 divided by the square root of (N+17), where N is defined as the number of boats in her class.
Year
 Boat Name
Design
 Owner/Skipper
2019
2018
SOJANA
SOJANA

Farr 115
 Farr 115

Sir Peter Harrison
Sir Peter Harrison
2017
LAZY DOG
Melges 32
Sergio Sagramoso
2016
GYPSY/UGO
CS40
Sir Hugh Bailey
2015
SLEEPER
CS40
Jonty Layfield
2014
TONNERRE DE BRESKENS 3
Ker 43
Piet Vroon
2013
ARETHUSA
Swan CS42
Philip Lotz
2012
EL OCASO
J/120
Richard Wesslund
2011
SOJANA
Farr 115
Sir Peter Harrison
2010
RAN
J/V 72
Niklas Zennstrom
2009
RIO
TP 52
Charles Dunstone
2008
PANTHERA
TP 52
Benny Kelly
2007
ABN AMRO ONE
Volvo 70
Mike Sanderson
2006
ROSEBUD
Transpac 52
Roger Sturgeon
2005
TITAN XII
R/P 75
Tom Hill
2004
MORNING GLORY
Maxz 86
Dr. H Plattner
2003
LOLITA
Swan 56
Frank Savage
2002
PYEWACKET
R/P 75
Roy Disney
2001
MORNING GLORY
R/P 75
Dr. H Plattner
2000
SAYONARA
Farr Maxi
Larry Elison
1999
SAGAMORE
Langan Maxi
James Dolan
1998
SAYONARA
Farr Maxi
Larry Elison
1997
SAYONARA
Farr Maxi
Larry Elison
1996
INFINITY
Nelson Marek 50
John Thompson
1995
ANY TAXI
S/R 27
Scott Ledbetter
1994
ENERSERVE
Melges 24
Paul Dieleman
1993
IMMIGRANT
Dubois 40
Howard Palmer
1992
FALCON
Tripp 40
Peter Holmberg
1991
KROPP DUSTER
Wylie 46
Charlie Kropp
1990
TITAN IV
J/V 43
Tom Hill
1989
INFINITY
Nelson Marek 50
John Thompson
1988
INFINITY
Nelson Marek 50
John Thompson
1987
TITAN IV
J/V 43
Tom Hill
1986
BLAZIN
Beneteau 10
Peter Holmberg
1985
AIRBUS
Beneteau 10
Peter Holmberg
1984
EXPRESSION
Express 27
Dr. Robin Tatersall
1983
KIALOA 4
S&S Maxi
Jim Kilroy
1982
KIALOA 4
S&S Maxi
Jim Kilroy
1981
ANTIDOTE
J24
John Foster
1980
ANTIDOTE
J24
John Foster
1979
IORANA IV
IOR 43
Wolfgang Denzel
1978
MARIONETTE
IOR 43
Chris Duning
1977
RICOCHET
Holland 40
Lloyd Ecclestone
1976
POKER CHIP
Creekmore 30
Hovey Freeman
1975
TITAN
Cal 30
Tom Hill
1974
SUPERCILIOUS
Wswan 44
Tony Lawson
1973
SUNDANCE
Scampy 30
J Byerley/C Blackstone
1972
MATCHLESS
Berthon 40
Jol Byerley
1971
I'LL DO
Rancher 41
Bob Thompson
1970
LAUGHING SALLY
Cal 40
Dick Doran
1969
ENZIAN
Westhal 38
Dr. Cesar Berrios
1968
ENZIAN
Westhal 38
Dr. Cesar Berrios
---