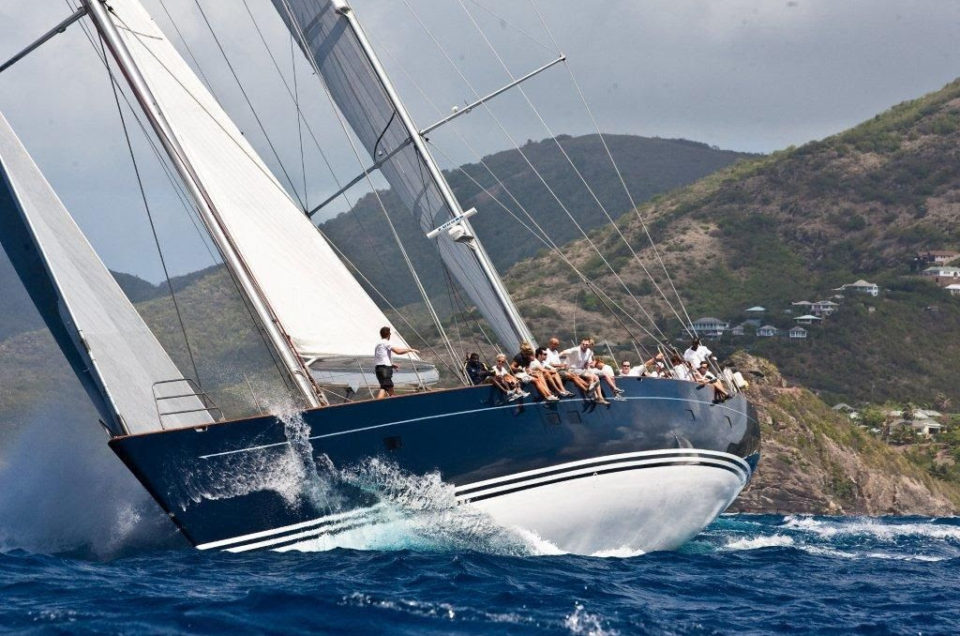 ST. JOHN'S, Antigua, April 28, 2017 – Following today's Guadeloupe to Antigua Race 49 yachts will be racing in the Peters & May Round Antigua Race on Saturday, April 29 which is a perfect way to prepare for the five-day regatta ahead. The 52 nautical mile course takes the fleet anti-clockwise around Antigua and the fleet is expected to sail at every angle to the wind and get just about every sail aloft. Solid trade winds of 15 knots, piping up to 20 in gusts are anticipated to produce record breaking conditions. The smallest yacht taking part is a team from Nonsuch Bay Resort racing a 24ft RS Elite, which will be a wet and wild ride around Antigua!
Sir Peter Harrison's Farr 115, Sojana slipped her moorings in Nelson's Dockyard this morning for a final shake-out before their record attempt at the Peters & May Round Antigua Race. Sojana has undergone significant performance modifications since the British supermaxi set the record in 2009, completing the race in 4 hours, 37 minutes and 43 seconds. Tomorrow is Sir Peter Harrison's 80th birthday and he would dearly love to break his own record to celebrate in style!
The biggest threat to Sojana and the race record will be Jean-Paul Riviere's Finot 100, Nomad IV. The canting keel French flyer is easily capable of averaging 12 knots which would be required to beat the record.
Loz Marriott, skipper of Sir Peter Harrison's Farr 115, Sojana is excited about their return to Antigua Sailing Week:
"Sojana will be returning to the magical island of Antigua to take part in the amazing 50th Antigua Sailing Week and to defend her Round Antigua Race record. Sir Peter Harrison and the team are very much looking forward to this well organised regatta."
The Peters & May Round Antigua Race will be followed by an awards presentation at the Antigua Sailing Week Welcome Party in Nelson's Dockyard where prizes will also be awarded to the elapsed time monohull winner, the overall corrected time winner and to winners of 1st through to 3rd places in each class.
---
You might also like