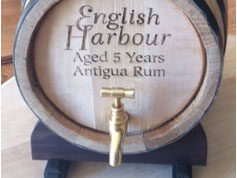 On April 28th while the crews await race results for that days racing, sponsors English Harbour Rum will be hosting their 4th Annual Crew Bartender Competition which will provide some light entertainment and no doubt some great comedic moments.
Crews are invited to submit their teams of two to four who will all create a cocktail with the ingredients provided on the day, one of which of course will be English Harbour 5 Year old Rum. The winning composition will be have the honor of being a featured cocktail during the week of the regatta.
Points are awarded for creativity, presentation and taste among other categories.
To sign up please complete the form below.
---