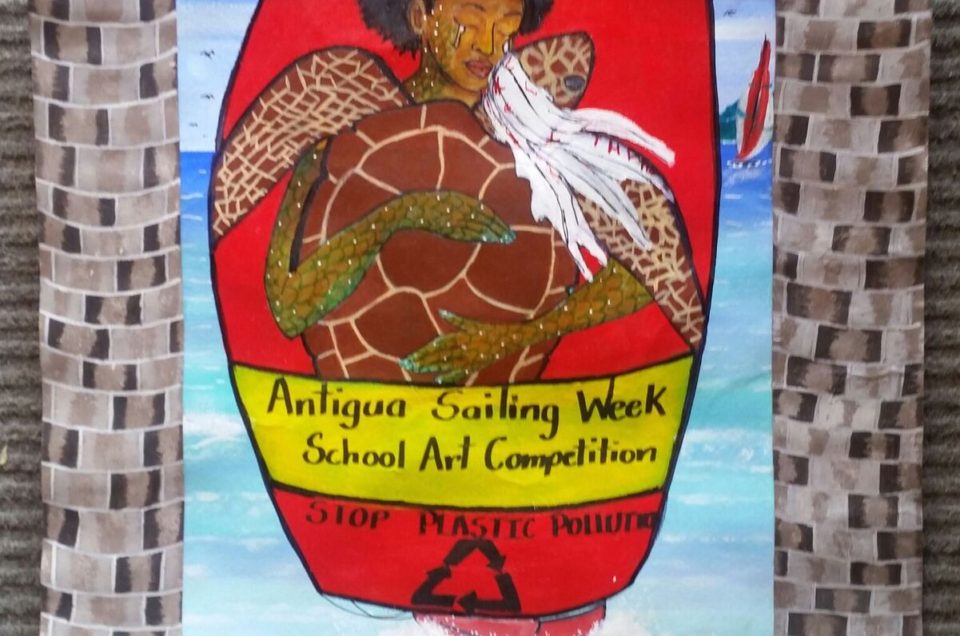 Christ the King student, Renesha Gordon is the over-all winner of the Harper's Antigua Sailing Week (ASW) School Art Competition. The judges found that her design totally captures this year's theme 'Stop Plastic Pollution'.
Rana Lewis,  ASW marketing & event manager adds that the young artists totally embraced the challenge: "Every year we are captivated by the creations that the students submit. Renesha's design encompassed the emotion behind the theme and we congratulate her and her art teacher, Ms. Rhonda Williams for this example of visual creativity. Lewis adds that: "This year's theme is very relevant to our organisation as ASW strives to be a clean regatta, minimising and eliminating the use of plastic items at our events. We congratulate all the entrants, schools, students and parents for participating and a special thank you to our judges and our sponsor, Harper's Office Depot for their support."Gordon's art teacher, Rhonda Williams is delighted: "Renesha worked really hard on this project and her hard work has paid off. We, at CKHS are very proud of her and all our students who entered this competition."
There are four categories and while Gordon won the age 14-18 and overall title, the other winners are:  T'Kai Luke of St Anthony's School (age 9 – 13) and Takera Joseph of Liberta School (age 5 – 8). While Shamara Pinnock of the All Saints Secondary School won the People's Choice Award – chosen by members of the public via a Facebook campaign.
Gordon wins a host of prizes and all the winners will have an extra special treat with a tour of  Sir Peter Harrisons 115ft ketch Sojana, winner of the Lord Nelson Trophy in 2011.
Her design will be printed and displayed on the welcome billboard at Cobbs Cross junction as you drive into English Harbour.
This is the 51st annual school art competition, which was started in 1968 to encourage students and the wider community to get involved in the regatta, which has grown to one of the most prestigious sailing regattas in the world.
---