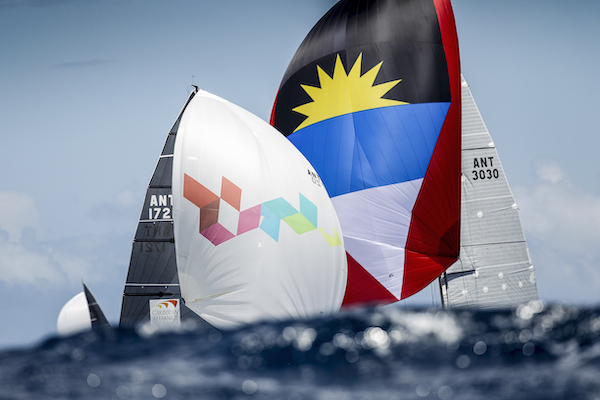 The 53rd edition of Antigua Sailing Week is just over four months away with the early entry fee (up to 30% discount) expiring on January 3rd, 2020. Entries are approaching 50 boats for the Caribbean's most famous sailing regatta, and the event looks set to be a cracker not to be missed. The Class of 2020 is already shaping up to be a heady mix of sailors and boats of all shapes and sizes from North America, Europe, and the Caribbean.
Newly appointed ASW Race Manager, Jaime Torres has been racing keel boats in the Caribbean since he was 11 years old, including participating at Antigua Sailing Week in a huge variety of boats.
"For 2020 the ASW Race Management team is more determined than ever in creating racing experiences tailored to the needs of each class," commented Torres. "To get there, we are meeting with key players in each of the classes, gathering precise feedback, and enabling our Race Committee crews to respond by revisiting courses and narrowing class splits that produce racing that is more fun, competitive and satisfying. Expect the ultra-fast race boats and multihulls to have long legs in which to spread their wings and fly, sportboats to battle it out in tough Windward Leewards, and the cruising boats to reach hull speed in reachy short and sweet courses."
The largest entry to date is Peter Harrison's British Farr 115 Sojana, which will be defending the Lord Nelson Trophy won for a second time last year. The smallest yacht currently entered in the CSA Division is the Beneteau First Class 10 Pepsi Max, entered by Sophie Langlois Squarcioni from Guadeloupe. A bevvy of round the world race boats is expected to be competing, the first entry of that ilk is Volvo 70 Green Dragon, sailed by Steve Travis from CYC Seattle. The first multihull entry is Stephen Cucchiaro's American Gunboat 60 Flow.
Carbon fibre flyers have been a regular sight and Antigua Sailing Week, and new to the regatta will be Christian Zugel's American FAST40+ Tschuss. Jules Mitchell's NSA Spirit has won class for the last two years and to score a hatrick will need to take victory against Joshua Daniels National Sailing Academy team and Ashley Rhodes' Whiplash in a newly created Sportsboat Class. Proven winners in the CSA Classes abound in the early entries including; Ross Applebey's British Oyster 48 Scarlet Oyster, Bernie Evan Wong's Antiguan RP37 Taz, Pamala Baldwin's Antiguan J/122 Liquid, and Chris Body's British J/122 El Ocaso, which will be sailed by Tony Mack's Team McFly.
Early entries in the Dream Yacht Charter Bareboat Division include over a dozen entries from German and Swiss teams organised by KH&P Yachtcharter including at least three former class winners; Gerd Eiermann, Alexander Pfeiffer, and Thomas Sparrer. Also competing in the Bareboat Division will be the the winners of The Road to 2020, the invitational challenge winners are Phil Walters – August Sky (USA), Stevie Beckett – Cobra (GBR) and Max Rieger – Mothership (GER).
The Club Class, which has been running since 2017, is designed for teams wishing to participate in the on-the-water action but who may not take their racing as seriously as others. Five teams have already entered, including last year's winner, Ian Galbraith's Scottish Oyster 53 Jigsaw.
"The main focus for 2020 is the same as it has always been – great racing," commented ASW President and Commercial Director, Alison Sly-Adams. "Shoreside, the objective is providing the best opportunities for sailors to get together to celebrate the days results with Daily Prize Givings at the ASW event village.  Additional non-race events for the sailors and spectators include partying together at Reggae in the Park, Lay Day fun on the beach, and the family styled Dockyard Day. In addition the Friday before the regatta will feature the Neon Rave English Harbour Rum Party, as the unofficial opening party.  For those who are not into the big party scene Nelson's Dockyard and Falmouth Harbour, and the strip in between, has well-established restaurants and bars, plus a few new ones well-worth exploring. We would also like to encourage people to bring their families and friends to chase the race and enjoy the destination while their partners are out racing."
To register for the  discounted rate of US $11 per foot ending on January 3rd 2020 visit https://www.sailingweek.com/enter-2020/
---