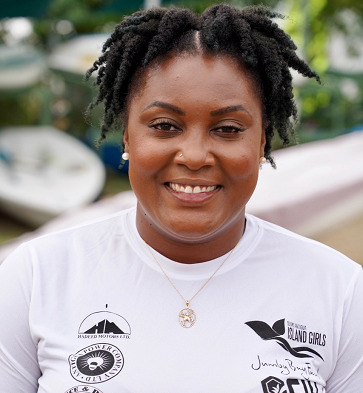 Samara Emmanuel , although originally from the Gray's Green community, grew up in the village of Liberta. She attended the Gray's Crescent Primary school, where she passed in the top 60 students to attend the Antigua Girls High School.
She has over 14 years experience as a sailor, and is the first Antiguan Female to become an R. Y. A. certified yacht captain(power and sail).
She holds qualifications as a Day Skipper, costal Skipper, yatchmaster, boatmaster as well others.
Samara participates in regattas annually around the Caribbean, and loves to share her passion for sailing and the sea with others.
Samara is presently employed at the Jumby Bay Resort in the Ferry department and she is also a freelance Skipper, delivery crew & race crew.
She has always had a love for the sea, and welcomes the peace & tranquility that being out there alone brings. She has done countless solo deliveries around the Caribbean, and a trans-Atlantic crossing from Antigua to Portsmouth, England by sail boat in 2009.
In 2019 on January 28th, Samara and her team mates, Team Antigua Island Girls, rowed into the history books by becoming the first all female team to represent our twin island state of Antigua & Barbuda, and also the Caribbean in the Talisker Whiskey Atlantic Challenge and they also became the first all black team(male or female) to row across any ocean.
After experiencing the joy and gratitude that giving back to a worthy cause created, and the smile that it brought to the faces of the ones who were directly impacted, Samara decided that she wanted to do more. She wanted to continue on a path that would see her helping to make a greater impact on her community and by extension her country.
Samara and her team mates formed the Team Island Girls non-profit charity in 2018, pre row and have since made charitable donations to persons and institutions in need. In May of 2019, she was inducted as a member of the Junior Chambers International(Jaycees/JCI) where she was awarded Most Outstanding New Member 2019, Most Outstanding Co-chair 2019 and Most Outstanding Committee Chairman February 2020.
She is presently Vice President External with responsibility over Community Development and International Affairs, and strives to continue to make her family and country proud by being the change she wishes to see in the world.
---