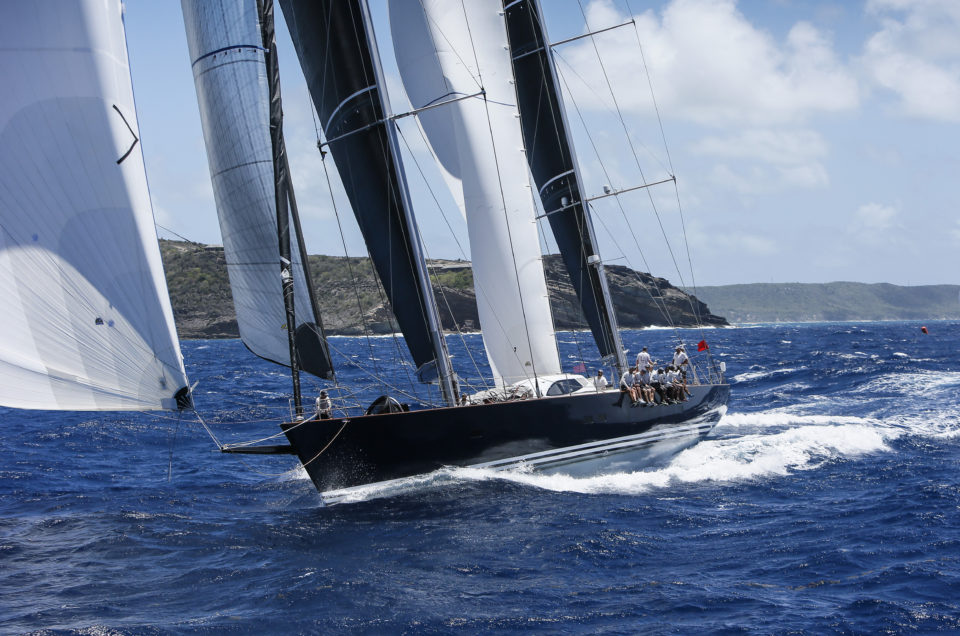 One Hundred and sixteen teams from 37 different countries raced in the 51st edition of Antigua Sailing Week. Strong trade winds blew all week delivering heaven-sent conditions to over 1,000 competitors. Over 3,000 revellers attended Reggae in the Park, featuring international reggae artist Tarrus Riley and Peter Harrison's superyacht Sojana was awarded the coveted Lord Nelson Trophy after a perfect scoreline of seven race wins in CSA 2.
"This is fantastic. It is the second time we have won the Lord Nelson Trophy and I am really thrilled to win it again," commented Peter Harrison, owner of Sojana. "We have had beautiful crew work, everybody was really on their game. We had our boat restored three years ago and have new sails and the crew have all done her justice."
"This week has been amazing, with perfect conditions for Sojana; breezy and lumpy and full-on. We have pushed ourselves and the boat. The crew is very diverse; we have a couple of young guys from the National Sailing Academy of Antigua and professional sailors from all over the world. We broke a few things, but always repaired them. It has been an epic week and the boss is super-happy. This is his favourite regatta, because it's intense and fun," said Sojana crew boss, Jonny Malbon.
The turbo-charged Volvo 70 Warrior sailed by Stephen Murray Jr. won CSA 1, scoring a win in all but the first of seven races: "These were extreme conditions; right out of the Antigua Sailing Week brochure and it was brilliant sailing. If you were skiing you would call it powder days! I am so proud of the team. It is the best crew I have ever sailed with and it's humbling to be around them."
Robert Szustkowski's Polish HH66 R-SIX was the winner of the Multihull Class, winning four out of five races. Seamus Hourihan's American Gunboat 55 Thirst was second and John Streicker's American Leopard 45 Spellbound was third. "We feel great! Another success!" laughed Robert Szustkowski. "We have had such a great time here for the last two years and of course we will be back next year."
OnDeck's Antiguan Farr 65 Spirit of Juno won CSA 3 after an epic battle with Oyster 82 Starry Night of the Caribbean. "This is marvellous," commented OnDeck's Peter Anthony. "I tell you what this has done, it has re-engaged me. I did fall out of love with sailing as for a little while it was just a business, but once again I absolutely love sailing."
Mark Chapman's Trinidadian modified Ker 11.3 Dingo was victorious in CSA 4, winning the class in the very last race by a single point from Bernie Evan-Wong's Antiguan RP37 TAZ. "We came from behind, taking two wins after Wadadli Lay Day; it was a good effort from the guys. It was really tough, but everybody got together and we came through in the end. I have been racing in the Caribbean since 1983 and this is the big one. Everyone is so happy."
Jonty and Vicky Layfield's Antiguan Swan 48 Sleeper was the winner of CSA 5, winning all seven races. Jonty and Vicky are residents in Antigua and are very active in encouraging young Antiguans to the sport. Teenage Antiguan Shanoy Malone was calling tactics on board:
"I love this regatta and we had perfect conditions for the boat. To beat sailors like Ossie Stewart and Ross Applebey (Scarlet Island Girl) is a great feeling. This regatta really puts Antigua on the map for sailing, attracting boats like Warrior and Sojana; it is fantastic. A moment I will always remember was on the third day going around the top of Willoughby Bay. The seas were steep and it was very hard; people think it's easy, but it's not – this has been a tough regatta."
Frank Loubaresse's French Sunfast 3600 Twinl-Jaws 2 was the winner of CSA 6 winning the class in the very last race after an intense battle for the win with Carlo Falcone's Caccia Ala Volpe and Peter McWhinnie's Leon. "It has always been my dream to come to Antigua Sailing Week," commented Loubaresse. "I wanted to cross the Atlantic so did it in the Transquadra Race to make the perfect opportunity to come to Antigua. This is a fantastic regatta and all my friends in France should be here to race. The conditions are perfect; sun, wind and warm sea; even when you get wet it is a pleasure. We love it."
The National Sailing Academy's Cork 1720 NSA Spirit, skippered by Jules Mitchell was the runaway winner in CSA 7, scoring six race wins. All six teenagers are the product of the NSA. Three of them, Jules Mitchell, Rocco Falcone and Louis Bavay have all represented Antigua internationally and all of the team aspire to become professionals in the yachting world. A special mention must also go to the teenage crew from the Grieg City Academy in North London, which scored three podium finishes having never sailed a Cork 1720 or visited Antigua before.
"I would like to thank all of the people who have helped us to get to where we are, especially the National Sailing Academy," said Jules Mitchell.  "It was great to meet the guys from the Greig City Academy; comparing life in different parts of the world. We hope to use this win as a springboard to the next level."
Robbie Ferron at the helm of the modified 6 Meter Biwi Magic was the winner of CSA 8 after a great battle with Biwi Magic's owner Geoffrey Pidduck who was racing Bavaria 42 Minerva. "That was a real battle and it came down to the last race. Biwi Magic goes fantastic to weather and that was the key to this week, especially as the conditions were tough, particularly upwind. This has been a very good Antigua Sailing Week but I have always been in love with it since my first one in 1982. It has always been a mysterious, wonderful and iconic experience. This regatta always exceeds expectations."
In Club Class, Jonathan Constantine's Feeling 39 Imagine of Falmouth won the class in the last race from Grahame Williams' Bavaria 42 Full Monty; both from the Jolly Harbour Yacht Club, Antigua.
"That was down to the wire; as close as it gets and it went to the last beat for the finish line," explained Jonathan Constantine. "It was great of Grahame and his team to come and congratulate us at the prize giving and that is the right spirit. The Club Class is all about getting sailors to come racing. Not necessarily top notch sailors, but people who just want to come and enjoy Antigua Sailing Week.
Twenty six teams raced in the Bareboat Classes. Alexander Pfeiffer's KH+P La Bella Vita was the resounding winner in Bareboat One, taking five race wins and always on the podium. Francois Kunz's KH+P Anguilla was the winner of Bareboat 2, taking three race wins and making the podium in every race. The winner of Bareboat 3 was also the overall winner in the Bareboat Class. Michael Cannon and Neil Harvey's KHS&S Contractors retained their title from last year, winning a one week charter from Dream Yacht Charter in Antigua. The team from Florida was pushed all the way by Nicole Lameter's all-female team racing KH+P Nardis who also received the Holtmann Cup.
"It was a great series and our competitors sailed really well and we didn't make any mistakes in the last race, so went on to win the title. We were happy to go as fast as we did," commented Mike Cannon. "We had two young sailors on the team from the Youth to Keelboat Programme as giving youth a chance is something I have always tried to do. Okharie Harrison and Brian Joseph bussed in every day from St. Johns and they were never late and a pleasure to have on board!"
"It has been a fantastic week." commented Alison Sly-Adams, President of Antigua Sailing Week. "We have been fine-tuning this format for six years and it finally is where we want it to be; an amazing competition on the water, with fantastic camaraderie ashore. Sailing always comes first at Antigua Sailing Week and we have noticed that the daily prize givings are great to get people together, but the hard partying has been focused into the unique and relaxed Reggae in the Park, which really suits the international crowd. The Final Awards Ceremony at Nelson's Dockyard, works with the planned rhythm of the regatta, giving the sailors a memorable night."
"This year the Youth to Keelboat Programme has been a great success with 26 young sailors racing on boats. We do listen to the sailors and chatting with John Burnie, who knows the Caribbean sailing scene so well, he told me that Antigua Sailing Week is having a renaissance. It feels so right, and it is perfect for the sailors," concludes Sly-Adams.
Entry is now open for the 52nd edition of Antigua Sailing Week, which will take place from 27th April to the 3rd May.
---