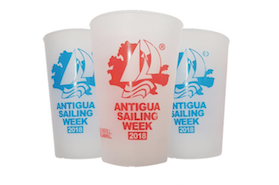 Antigua Sailing Week (ASW) is fast becoming known as the 'green' regatta thanks to its innovative approach to waste management and creating awareness of closed seasons. This year, the introduction of  the reusable cup program at all official events, venues and partner establishments, resulted in diverting some 35,000 plastic cups from the island's landfill.
ASW event manager Rana Lewis explain the motivation behind the event cup was a long time coming. "Since 2011 ASW has participated in the Sailors for the Sea Clean Regattas Programme and has strived every year to both implement strategies  and educate our sailors, patrons and partners on the importance of sustainable practices during the event that can also be applied in day to day life.  This year the focus has been on reducing the quantity of materials which reach our landfill, specifically, single use plastic cups. This concept is widely used in large scale events, and is the way forward in event waste management."
Lewis considers it a major green success story of Antigua Sailing Week 2018: "Introducing the reusable cups at all our events was challenging as it took 2 years for the idea to gain traction with the venues. Most of our patrons and partners are familiar with the idea of reusing their cup at a fete. But  now we are seeing a much better understanding of why we need to remove, where possible, single use plastics, replacing them with a reusable rather than disposable option. It's an ongoing education for both patrons and bar staff."
The ASW Green Team,  a group of select volunteers worked tirelessly alongside the National Parks Authority and National Solid Waste to provide effective waste management. In addition to being on hand during our afternoon events, they monitored the bins which were labelled for the consumer to easily identity where their waste should go (LANDFILL – RECYCLE – REUSE).  Vendors of Wadadli Grill in the car park area were asked to separate their waste in the same manner.  The Green Team then provided the thankless task of ensuring that collected recyclable materials were removed every morning  from participating  restaurants and businesses.
Another success of the green initiatives was the availability of biodegradable packaging products, which are used by the vendors and establishments serving take away food. Local company, Eco Island Packaging, ASW Green sponsor,  is one of the main suppliers and  company founder, Ronda Akande said that although there has been some resistance, the overall response has been good: "When I speak to someone and tell them just how long a Styrofoam or plastic cup will stay on this earth, they are shocked to find out the answer is hundreds of years. Their reaction alone is proof that this change is having a huge impact on the community. Even if it takes time for them to adjust, at least they are learning facts and can start to change their day to day habits."
Green team monitoring bins
The 2018 Green Initiatives also placed great emphasis on the closed lobster season with a sustained campaign through briefings and an active social media campaign: " When we first talked about supporting this programme,  we were met with some derision from vendors, so we took the route of educating vendors and consumers and overall we believe there was a very significant shift. Although we did spot a few lobsters being sold, it was very small amount and this shows a significant swing in people's understanding of the reason for the ban". Lewis adds that each small action that goes beyond Antigua Sailing Week will positively impact the community.
Other initiatives focused on the sailing community as crews were encouraged to minimise boat waste with twice daily collections, the separation of waste either for landfill or recycling, as well as encouragement to use refillable water bottles with water top up stations at Antigua Yacht Club and Nelson's Dockyard and to refuse the offer of plastic straws.
"We worked closely with our partner restaurants and bars to ensure that we minimised waste and the message is getting through. We hope that with all the necessary structures in place, from both government and private sector, we can move closer to our ultimate goal of having a zero waste event," says Lewis.
---