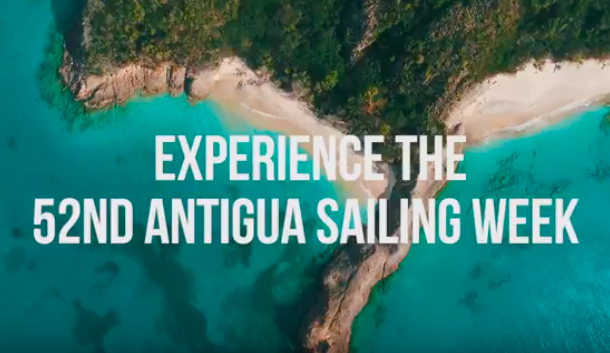 The lazy hot days of summer are coming to an end here in the Caribbean and in the northern hemisphere. With August Bank Holiday and US Labour Day Weekends celebrated and students world-wide heading back to school it's the start of the run up to Christmas and cold weather!
As organisers of the greatest Caribbean event in the year, The Sailing Week Antigua Team suggests this is the perfect time to start making plans for the 52nd Edition of Antigua Sailing Week. The earlier you book flights, hotels , chartersand berths  the sooner you can begin your countdown to race, chase and celebrate.
Enjoy the below video as an introduction or a reminder of the exhilarating action during the most recent Antigua Sailing Week.
NOTICE OF RACE NOW AVAILABLE 
The 2019 Peters & May Round Antigua Race & Antigua Sailing Week run(s)  from April 27 – May 3.  Both events are guaranteed to be exhilarating for participants who range from fully professional campaigns to crews of friends & family. Classes include CSA Racing, CSA Non-Spinnaker, Multihull, Bareboat and Club Classes and new for 2019, CSA Double Handed.
Also new for 2019 will be equipment checks throughout the week. ASW organisers take safety very seriously and we want to be sure our participants are properly equipped. Please be sure to arrive fully prepared by reviewing the ASW minimium safety rules on our website.  All Notices of Race have been published and are now available here.
ASW COMING TO A TOWN NEAR YOU – MARK YOUR CALENDARS
Look for us during these upcoming USA boatshows. On Friday September 14th, the Sailing Week Antigua Team will be at the Newport Boat Show, alongside sponsors Dream Yacht Charter located at Dock N-5 W.  On Friday October 5th you can find us at the Annapolis Boat Show at the DYC exhibit at Dock H in Vacation Basin. For a special treat we are serving up a taste of the island featuring award winning English Harbour Rum cocktails at both events from 3pm. Stop by for information on how to enter ASW 2019 in person or to share your best ASW memories with us.
In the UK we will be joining the Round Antigua Race sponsors Peters & May on Thursday September 20th at the Southampton Boat show.  There, representatives from Antigua Barbuda Tourism Authority will be on hand to answer any event or island related questions while sharing a English Harbour Rum cocktail. Look for them at the Peters & May location booth C014 starting at 5pm.  Click here to RSVP if you would like to join.
---
SAIL WITH DREAM YACHT CHARTER (DYC)
Don't watch from the sidelines, feel the thrill of the Caribbean's most exciting race and take part in Antigua Sailing Week next year. If you want to keep close to the action, book a yacht charter with us. Dream Yacht Charter is the official charter sponsor for Antigua Sailing Week 2019 and can get you started on your experience. If you need crew accommodation, take a look at our multihull fleet packages.
Book before September 12 for 2018 prices before 2019 pricing kicks in…
---
NEW DOUBLE-HANDED CLASS
In view of the ever growing demand for double-handed racing, the organisers of Antigua Sailing Week (ASW) are pleased to announce 2019 will benefit from the addition of a
 new double-handed class
.  Double-handed racing by its nature is all about crew stamina and how to pace yourself. With only two crew on board, both must be good all-rounders and understand the trade-off between pace, performance and physical demands.  If you are interested in being a part of this inaugural class contact the regatta organizer at 
Lorna@sailingweek.com
.
---
RACING RULES OF SAILING SEMINAR
Sponsored by Newport Shipyard this new seminar will take place on the lawn of the Antigua Yacht Club before the start of racing at Antigua Sailing Week on Friday 26th April, from 3 – 5 pm.
Using race course scenarios to demonstrate how the rules should be interpreted, Chief Judge David Pelling will illustrate how well we may or may not be applying best practices during the regattas in an easy-to-understand fashion, and there will be time for questions and answers following the seminar.
All sailors participating in both the Peters & May Round Antigua Race and Antigua Sailing Week are eligible to attend the Newport Shipyard Racing Rules of Sailing seminar. Attendance of the seminar needs to be confirmed in advance by filling in this form.
---
ROYAL SOUTHERN YACHT CLUB CHALLENGE
2019 will also be the 5th edition of the Royal Southern Yacht Club Inter-Yacht Club Challenge. 
The challenge is open to all yacht clubs around the world and entries are encouraged from boats where a minimum of 50% of the participants belong to the same club. The Shield Trophy is awarded to the best performing boat using a weighted scoring system at the Final Awards Party.
---